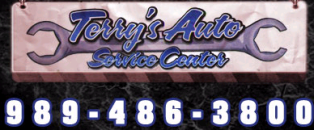 APPOINTMENT
Hours


Mon

8:00AM - 5:00PM

Tue

8:00AM - 5:00PM

Wed

8:00AM - 5:00PM

Thu

8:00AM - 5:00PM

Fri

8:00AM - 5:00PM

Sat

Closed

Sun

Closed

Terry's Auto Service Center

706 S Poseyville
Midland, MI 48640
989-486-3800
Undercar Services: Maintenance & Repair
Terry's Auto Service Center approaches caring for your car or truck from the ground up. That means that before we look over the internal components of your ride we take time to make sure that you're working with a solid foundation. Our comprehensive undercar inspections and services cover an important area of your car that can easily be neglected and give the foundation of your vehicle the care and attention it deserves.

Avoid disaster by coming in and having your undercarriage checked out today. Call us at 989-486-3800 or visit us in Midland, MI so we can schedule an appointment to ensure your car is in tip-top shape!

Our competitively priced undercar services include:
Alignment
Wheel alignment (or simply alignment) is standard car maintenance that involves adjusting the angles of the wheels so that they are set to the manufacturer's specifications. The main purpose is to let the suspension and the steering systems operate at their desired angles - this reduces tire wear. Alignment is a complicated process and not all mechanics get it right. To have experts handle your car's alignment, visit Terry's Auto Service Center.
Anti-Lock Brakes
Anti-lock brakes prevent wheel lock-up when rapidly decelerating by automatically modulating the brake pressure during an emergency stop. With this system, the wheels are able to maintain traction with the road while braking. Failure of the anti-lock brakes could lead to an increase in the risks of multiple vehicle crashes and run-off road crashes. To avoid this, have your anti-lock brake system checked and repaired by experts. At Terry's Auto Service Center, we have anti-lock brake experts who will examine and repair your faulty ABS - keeping you safe.
Brakes
A brake is a mechanical device for slowing or stopping a vehicle (usually by means of friction). In short, a brake inhibits your car's motion. It lets you stop the car whenever and wherever you choose. Brakes are one of the most important parts of a motor vehicle. Without them, you would not be able to stop the car. If your vehicle's brakes are having issues, consider having them worked on. Brake experts at Terry's Auto Service Center can work on your car's brakes to ensure you have a safe drive.
Chassis
A chassis is the car's internal framework that supports the body and other parts like the wheels, engine, transmission, driveshaft, differential, and suspension. A weak or damaged chassis will translate to a weak car. To have a strong and properly working vehicle, have your car's chassis checked for defects. At Terry's Auto Service Center, there are experienced undercar service providers who can work on your chassis.
Differentials
The differential transfers the engine power to the wheels. One important function of the differential is to pass on power to the wheels while allowing them to rotate at different speeds - thus the name differential. When turning, the outer wheels travel a larger distance than the inner wheels do (also the front wheels travel a longer distance than the rear wheels). This means that all four wheels travel at different speeds during a turn and this is where the differential comes in to help. To make sure your vehicle's differentials are working properly, have them checked regularly. Contact Terry's Auto Service Center today for differentials examination and servicing.
Driveline
A driveline is a part of your motor vehicle that connects the engine and the transmission to the wheel axles. The driveline consists of the parts of the powertrain less the engine and transmission. Failure of the driveline means that the car would not move since energy cannot be transmitted from the engine to the wheel axles. Therefore, make sure that your car's driveline is regularly inspected and serviced. And, at Terry's Auto Service Center, you can have the driveline serviced by experts.
Exhaust
In a motor vehicle, an exhaust system is a piping used to guide exhaust fumes away from the engine - usually to the rear of the vehicle. A properly functioning exhaust system not only sounds better, it is better - for you, your car, and the environment. Terry's Auto Service Center has expert technicians to service your car's exhaust system.
Differential Questions and Answers
Q: What is front and rear differential service?
A: Differential services performed by one of the professional technicians at Terry's Auto Service Center usually includes draining the old fluid from the differentials and replacing it with new fluid according to the vehicle manufacturer's recommendations and specifications. Sometimes other components surrounding the differential may need to be serviced as well.
Q: Is it necessary to change front and rear differential fluid?
A: Over time, the differential fluid breaks down and becomes dirty and impacts performance. It is necessary to have your car or truck's differential serviced regularly. It is generally recommended to have the differential fluid changed every 40,000 to 60,000 miles. However, if you are a more aggressive driver you may need to get your front and rear differential fluid changed sooner. If you are in Midland, , , or the surrounding area, give us a call and we can help you figure out what makes the most sense for your vehicle.
Suspension Questions and Answers
Q: What is the difference between shocks and struts?
A: Shocks and struts are both parts of a vehicle's suspension system. However, each has a very specific job. Your vehicle has either shocks or struts. You cannot replace your shocks with struts and vice versa. Shock absorbers are hydraulic components that help minimize movement generated by the vehicle's springs. These springs absorb some of the jolts you might feel from uneven or damaged roads. Struts are structural components of certain vehicles' steering and suspension systems. They usually consist of a spring and a shock absorber. Struts are designed to be much stronger than shocks since they are designed for vehicles that carry heavy loads.
Q: What happens if I only replace one strut or shock?
A: If you replace only one shock or strut, it will create poor handling when changing lanes or driving over bumps. If your car is new, replacing only one strut or shock absorber may be ok since the opposite side shock is not worn out yet. Generally, Terry's Auto Service Center recommends replacing both shocks or struts.
Q: Are shocks difficult to replace?
A: Shock absorber replacement is usually a straightforward job, taking less than an hour of labor, but they should be replaced by a professional. Some models require other components to be removed or replaced before working on the front shocks. Bring your car to Terry's Auto Service Center in Midland and we will help you determine what needs to be done and get you back on the road quickly.
Q: How often should shocks be replaced?
A: Experts recommend that shocks be replaced at 50,000-100,000 miles. If you are a more aggressive driver or frequently drive on rough roads, they will wear out faster. Shocks don't go out all at once, they deteriorate slowly over time. If you are noticing problems with handling, making smooth turns or ride smoothness have one of the professionals at Terry's Auto Service Center inspect your shocks.
Q: Are struts difficult to replace?
A: Replacing struts is simple and fast for a professional. Replacing your front struts yourself is not recommended, especially if you need a new complete strut assembly kit. When you get your truck's struts replaced you also need to have the front-end alignment checked. Ask the professionals at Terry's Auto Service Center to replace your struts and we will complete the work quickly and easily.
Q: Is it necessary to get an alignment after strut replacement?
A: Terry's Auto Service Center recommends performing an alignment anytime shocks, struts or other steering and suspension components are replaced. Getting your vehicle's alignment within factory specifications ensures optimal tire wear and helps prolong the life of your tires.
Q: What is included in a front-end alignment?
A: Front-end alignment is a service performed on the front wheels. The process includes adjustments to the camber, toe and casters. Your 'thrust angle adjustment' may also need adjustments, to ensure that all four wheels are in alignment.
Terry's Auto Service Center